'Free returns' is a common term these days. But that's expected to change. During the pandemic, many e-retailers prioritized revenue growth over profitability. But now that online shoppers are once again more selective, e-retailers pay more attention to cost optimization. When it comes to small purchase amounts, free shipping has largely disappeared. The big question in e-commerce is when free returns will become history, too.
The price tag of free returns
Return costs impact e-retailers' profitability, and people return lots of items. In 2020, people in the Netherlands returned nearly 23 million packages, which equals 7 percent of all online orders. And when it comes to online clothing, shoes, and fashion accessories purchases, 30 to 40 percent are returned.
The returns process — collecting, packaging, shipping, returning, inspecting, preparing, stocking, processing, and partially deducting returned items — boils down to an average cost of 12.50 euros per returned item. That's an amount e-retailers have to deduct directly from their profit margins.
Besides the price tag that comes with free returns, the concept is anything but sustainable. And sustainability is increasingly important to both e-retailers and consumers.
So, decreasing returns has been high on e-retailers' priority lists for years. For example, they create transparent product descriptions, post clear pictures and videos, use online 'fitt tooling,' and limit post-pay options. Nevertheless, Wehkamp's CEO Graham Harris says the number of customer returns is sometimes shocking — an approximate 70 percent of ladies' dresses are returned to the warehouse. To put this into a broader context, 28 employees work on the shipment of 11 million packages per year, while 150 employees process 50,000 returned items every day. Harris says changing consumer behavior only helps a bit, so the company has no choice but to charge return costs (which it has recently started to do).
According to the Distance Selling Law, consumers have the right to return products within 14 days of receipt without stating a reason, and retailers can only charge the return costs — they are responsible for all other expenses that stem from returns.
First movers: a cautious first step toward paid returns
The chart below shows the standard rates per return for the top 25 Dutch online retailers, compared to their standard shipping rates. Although a massive abandonment of free returns is not yet visible, the first movers stand out.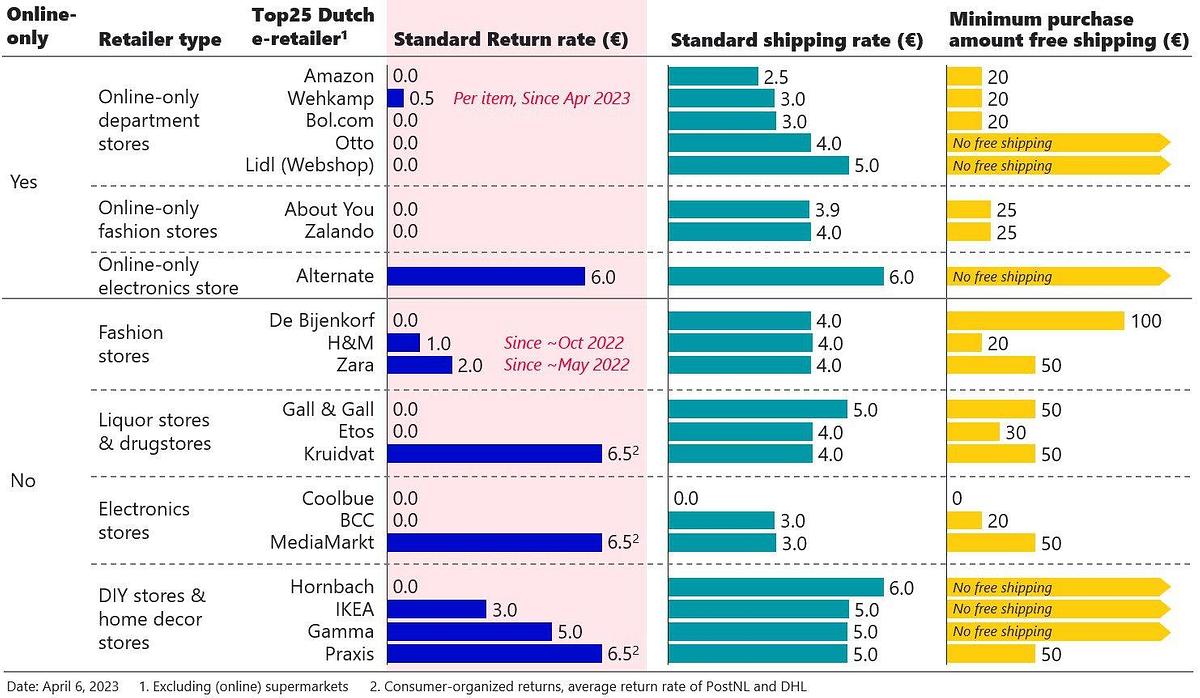 There's a clear difference between the return costs charged by online-only retailers and e-retailers with physical stores. The latter have return policies that vary from free returns (especially those retailers with strong online competitors) to relatively high return costs (which encourage in-store returns). However, all online-only retailers except Alternate offered free returns until last month (March 2023). There seems to be no connection between return costs and standard shipping costs.
Last year, H&M and Zara took a cautious first step toward paid returns. Last month, Wehkamp was the first online-only e-retailer to do so. It's not surprising that fashion e-retailers with high return percentages are 'pioneers' in this regard. Given the relatively low return costs (that don't even completely cover shipping costs), it seems like their main goal is to experiment, increase awareness, and encourage a sense of responsibility among consumers. Moreover, first movers will likely ensure they won't give a competitive edge to e-retailers that don't (yet) charge return costs.
When will the 'free online returns era' be over?
It's quite remarkable that shipping rates have been normalized while return costs are still the odd man out — especially because customers consider shipping rates more often when making purchasing decisions. On top of that, Simon-Kucher's Mark Helder says increasing shipping and return costs is easier than raising product prices, as consumers are more likely to accept that. The effect is the same: e-retailers can retain margins.
In fact, recent research conducted by the Dutch Ministry of Infrastructure and Water Management shows that consumers are willing to pay 3.50 euros to return a 15-euro order — and they'll even pay 5.20 euros for a 150-euro order.
As we live in uncertain times and e-retailers' focus has shifted from growth to efficiency, others will likely follow in the first movers' footsteps. E-retailers keep a close eye on each other, and there's increasing room for charging return costs. The latter will probably be raised gradually until they reach the maximum amount accepted by consumers and permitted by law.